Company whose roots trace to Trans Ova Genetics history of the production and transfer of genetically engineered animals for biomedical purposes. Today, Exemplar produces genetically engineered pigs as disease models. These models can be used in many ways including research and drug discovery. Examples of such models include models of cystic fibrosis, elevated cholesterol levels, muscular dystrophy and genetic heart disease that can further medical discovery.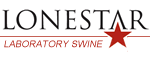 A division of Exemplar Genetics, provides pigs for research purposes. It's principle product is a Yucatan mini-pig. The pigs smaller, more human-like size is often preferred for researchers.

Trans Ova Genetics is proud to serve SAb Biotherapeutics. SAb Biotherapeutics has developed world class technology and innovation for the production of humanized polyclonal antibodies produced in cattle.
The wide range of applications for these products range from diagnostics to therapeutic products and bio-defense.
Trans Ova Genetics provides vast experience in cloning, embryo transfer, recipient management, and care of the resulting calves.